Food-stalls
Scattered around the festival there are different possibilities to eat: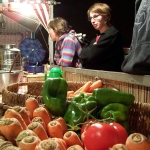 Near the Bigtops on the festival site there are food stalls for both jugglers and the public. They'll be offering meaty and vegetarian meals - with reduced prices for jugglers.
On the camp-site, the SVK Beiertheim will offer food, snacks and drinks all day (and night) long.
In the mornings, breakfast will be served, and for dinner and lunch, typical German food will be on the menu, changing daily.
In the medieval village you'll find - surprise surprise - medieval food.
Of course, among those rustic offers you will also find vegetarian options.
All self-caterers who want to bring their own cooking equipment will find two supermarkets, bakeries and other shops nearby. In the morning, fresh bread can be bought on site.

There will also be self-catering tents and dish-washing facilities.