This is a short extract from the center of tourism which can be found on www1.karlsruhe.de



region
"It surely would not be presumptious to claim that Karlsruhe is located in the heart of Europe. France is only minutes away by car, and Switzerland can be reached in just a couple of hours. Located on the foot of Black Forest in the Rhine Valley, the former residence of the margraves has extraordinary transport connections for which it is envied by many other cities. Karlsruhe is located directly at the Rhine River and is surrounded by the cities of Mannheim in the north, Stuttgart in the east and Strasbourg in the southwest."

Black Forest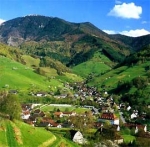 "The Black Forest shapes the southwestern edge of Germany. It stretches over about 160 kilometres from Pforzheim in the north to Waldshut close to the southern edge of the republic.

While only 20 kilometres wide in the north, the Black Forest is 60 kilometres wide in the south. The different peaks reach such heights as 1.166 metres with the Hornisgrinde and 1.493 metres with the Feldberg.

Black Forest is not only ideal for hiking, it is also a heaven for bicyclists, climbers and air sports. Every year thousands of vacationists make the pilgrimage to the most extensive low mountain range in Germany to relax in one of the many spa towns."