Workshops
An important part of any EJC are the workshops on offer. This is what the EJC is truly about. According to the motto 'by jugglers for jugglers' the majority of workshops will be offered by participants, like...you?
The mix of workshops from professional teachers that are arranged in advance and the numerous spontaneous workshops offer a wide variety for beginners and professionals from juggling to cooking. Learning during an EJC is usually fun, that's why even pure 'fun' workshops are very well received.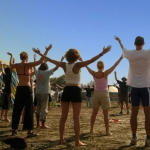 But no matter whether for fun or in all earnestness: if you fancy going on a unicycle tour or playing volleyclub - offer a workshop. If you have experience performing or are a make-up artist - offer a workshop. If you want to create balloon models for the parade or know a super hot devilstick trick - offer a workshop.

And in the meantime why not take part in one or even a few of plenty other workshops on offer.
Planned Workshops
The planned workshops so far include:
- several excursions (unicycle tours, visit to the casino)
- dealing with fire
- geocaching
- kendama
- balloon modelling
- introduction to acrobatics
- dance and physical theatre
- stage presence
- trampoline
- massage
- slackrope
- yoyo
- capoeira
- and of course plenty of workshops around juggling for all abilities


Geocaching

Geocaching is a fairly recent 'sport', similar to paper chasing. But instead of paper you need a GPS device and will be guided around by means of clues and a description (available at registration). So if you're curious bring along your GPS and face the challenge.

Special Workshops
Every year well-known professional juggling teachers are invited to EJC to pass on their knowledge to the participants in various workshops. In Karlsruhe they will be:

Alan Blim - focus on 'juggling and rhythm'
Stefan Sing - focus on 'juggling and body awareness'
Marco Paoletti - focus on 'juggling and ideas'
Luke Wilson - focus on 'investigating technique'
Kelvin Kalvus - focus on 'contact juggling'

To ensure that as many jugglers as possible can benefit from these workshops, but also establish direct contact between teacher and participant, there will be one hour workshops in larger rounds, as well as two hour intensive sessions for smaller groups.

Note: Registration for these workshops is only possible directly at EJC.