Games
One of the last highlights of the convention will be the Games on the second Saturday with fun competitions. As with everything else - the main goal is to have a good time.
The jugglers will compete in different disciplines founded on juggling related elements, but also requiring skill, stamina and creativity.

Next to disciplines that require highly developed technical skills like 5 ball endurance, there will be other games for everyone to join in.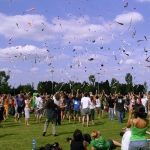 The finale of the Games is traditionally a big Toss Up where, on three, jugglers and audience toss everything that's 'throwable' up in the air.