Parade
During the traditional parade the colourful jugglers will wander through the streets of the host town. Often with enthusiastic support from the bystanders, as happened in Karlsruhe during the 23rd EJC in 2000 when 30,000 people admired the parade.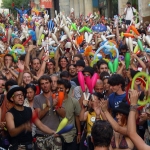 In order to recreate this great spectacle in 2008 we need your help. Bring along your fancy costumes, juggle, model balloons, make music, unicycle or think of something else unique - the main thing is to bring the great atmosphere of an EJC to the streets.
The parade starts on the first Sunday at 2 pm at the square in front of the ZKM (Zentrum für Kunst und Medien) next to the festival site. We'll head to the castle via the city centre and the pyramid. The castle will provide a beautiful backdrop for the opening show which finishes off the parade.
Feel free to stay in the castle park afterwards; on the way back your festival badge is your ticket for the tram.