Public Show/ Gala Show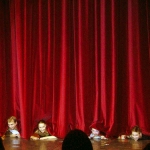 The Gala Show is one of the highlights, if not the highlight, of the festival. Professional artists from all over the world have been booked to present an exciting show full of variety. The people of Karlsruhe are also invited to this event.

The show will take place at the Brahmssaal in the Karlsruher Stadthalle next to the Festplatz in the town centre, offering space for 1700 people. There will be a bus transfer for all convention participants from the site to the show.

Due to the expected number of participants the show will be shown three times: Thursday at 8.30pm, and Friday at 5.30 and 8.30pm.