Open Stage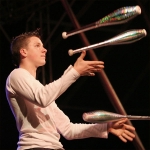 During EJC the Open Stage will take place in the evenings in one of the two big tops. As the name Open Stage indicates anyone can perform, along the lines of 'from jugglers for jugglers'.

So if you have an act that you wish to perform in front of a knowledgeable audience or you're working on a new act that needs some finishing touches, why not show it on the Open Stage.

As only a limited number of artists can perform here, there will be a selection process. This will happen on site during EJC and won't be arranged in advance.
Further information about how to participate in the open stages is available in the document (see link above).

Special Stage
In order to give more jugglers the opportunity to enjoy a show, there will be Special Stages happening at the same time as the Open Stage.

Special Stages are shows that are planned in advance, further details will be found in the programme. This means that each juggler has the choice of a Special Stage with prior knowledge of its content or the 'surprise-package' Open Stage.

Amongst the Special Stages there will be a show from Chapter2, a convention focussed on new and innovative juggling. Other Special Stages to be announced. But we won't spill all the beans just yet...

Opening Show
Straight after the parade on the first Sunday of the EJC week the jugglers and the people of Karlsruhe will come together in front of the castle for the big opening show. The castle of Karlsruhe is the centre of the city and serves as an amazing backdrop for a beautiful opening.

From Renegade to Fire Night
Apart from Open Stage and the Special Stages one show in particular should not go amiss - Renegade. When around midnight the atmosphere is cooking and anticipation is at its peak, it's time to give it up for the (not so) traditional Renegade Show. Unlike the Open Stage, everyone can spontaneously join in the fun - no matter whether with a proper act or a humorous interlude. Every appearance will be rewarded.

Other shows like Eurovision Song Contest or the Fight Night are being considered and might happen with short notice. In these shows well-known jugglers will compete for the audience's favour or they'll face each other in a club combat.
Fireshow
Moreover, there is a fulminant fireshow planned for Saturday, September 8, the last day of the convention. It will take place in the artists' meadow right in front of the hill.

Children's Show
Of course there will be special entertainment for the little ones. From Monday to Wednesday professionals will play shows for children. This offer is mainly for the general public, but children from convention participants can go for free, too.