Complete package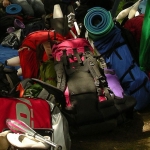 The price for the whole convention is 120€ (at the door). Youth aged 10 to 15 years inclusive pay 65€ at the door (children under the age of 10 are free).

The complete package includes:
- Access to juggling spaces and bigtops on the festival site
- 24hr juggling hall
- Medieval village with stage
- Ticket for the gala show
- Shows on site
- Firespace
- Black light chill out zone
- Loads of workshops
- European juggling games
- Big parade with an openingshow
- Tent and open air acrobatics
- Skatepark and unicycle excursions
- Parties in the bar tent
- (Juggling props) traders' tent
- Area for youth circuses
- Internet, tournaments, and a couple of other things...
Day tickets
Day tickets are 15€ and allow access to the whole convention (see above) including camping for one night. The ticket to the Gala show is NOT included.
Day tickets are available only at registration at the EJC. They are valid until 12 o'clock the following day.
The price for the Galashow is 18€ in combination with a day ticket.

Important: Preregistration is possible for the whole convention only!

Jugglers who do not want to attend the entire convention can purchase day tickets and a gala show ticket individually.
You cannot pre-register for day tickets!