Camp-site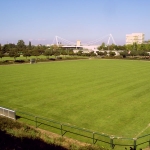 Next to the Europahalle there are the sports-fields of the Beiertheim sports-club which are the camp-site for the jugglers.
The lawn of three big football-grounds and the stadium offer enough space for about four thousand jugglers camping in tents - and if that still shouldn't be enough there are spare camp-areas about a diabolo-throw far away. In addition to the existing toilets, portable toilets will be added so that you don't have to go in the bushes.

Not only does the sports club provide the camping area, but offers further services: during the EJC there will be a variety of food and beverages right next to the camping area all day long. Starting with the breakfast-bag containing rolls/ finger sandwiches, there will be coffee, cakes and hefty specialities from Baden – in other words: everything one might desire during the course of a day will be offered by the sports club for a cascadal price. Even vegetarian food!

The catering on the camp site is an additional offering, of ourse. There is no problem to have the usual self-catering as we will provide a self-catering-tent and the possibility to do the dishes.


Youths Circuses
For families and youths circus groups there will be a special section on the campground. We are planning a sheltered area for cooking with your own gear and for having meals. Unfortunately, there is not enough space to bring your own kitchen tent or tents for common activities. Nonetheless, after consulting contact there are exceptions possible for groups with guardians or persons in charge that are greater than 25 persons.


campground for caravans
For caravans or campers, there will be a special area assigned at the parking place next to the campgrounds provided by SVK Beiertheim. Entrance to that area will only be possible with a valid badge.