Europahalle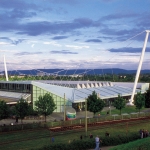 The Europahalle is a large sports arena, which will be open 24/7 during the convention.

In the foyer you will find the registration where all pre-registered convention goers will receive their 'badge' for the EJC when showing their booking confirmation. Those who haven't booked in advance have the chance to register here as well. Cash payments only please. Also in the foyer is the Info-Point, the place for all your questions about EJC.

The gym will be open at all times for convention participants only and offers plenty of space to juggle with an area of over 3800 square meters. The height of the ceiling should be sufficient for most tricks, considering that Albert Lucas tried to set a world record with 14 rings in this hall.

All those who fancy watching others for a while instead of juggling themselves will find a space to do so on one of the 3000 seats surrounding the juggling area. Also located in the Europahalle is an internet cafe so that people won't lose contact to the 'real' world.


Those who worked out a little bit too much will be glad about plenty of hot showers in the Europahalle to wash off the sweat. Cleanliness is very important and the showers and toilets will be cleaned daily during EJC.