Sitemap
The site consists of the Günther-Klotz-Anlage, a big park south west of the city-centre of Karlsruhe, the Europahalle, a big sports-hall, and outdoor sports facilities.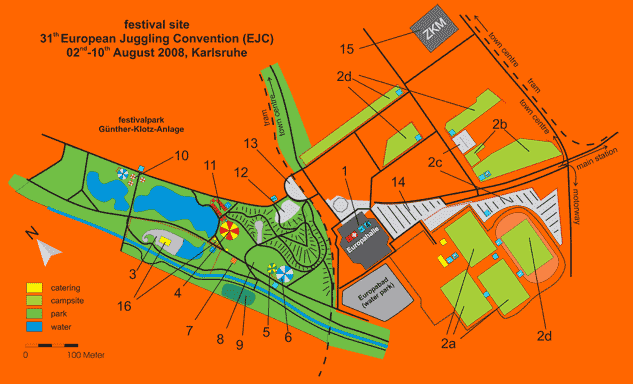 (1) big gym (9) Acrobats-place
(2a) camping
(2b) familiy & youths circus camping
(2c) Caravan camping
(2d) additional campingspaces (10) Area for youth-circuses
(3) medieval village (11) Traders
(4) Open Stage Tent at the lake (12) Firespace
(5) Bar/Party Tent (13) Unicycle-area
(6) Open Stage Tent at the hill (14) Carpark
(7) ClubClinic (15) ZKM (Start of Parade)
(8) Artists playground (16) Caterer


Dogs are strictly forbidden on the campsite and not welcome in the rest of the site.

open concept
Unlike most past EJCs the festival-park is not fenced-in but open to the non-juggling public. In this way people from Karlsruhe and jugglers can intermingle between the big-tops so that the EJC and the fascination of juggling can be experienced by everyone. True to the aim of the EJA to "encourage juggling in Europe" everyone can come along by chance and leave as a juggler!
The sports-hall, the tent-site and (due to capacity-reasons) the nightly shows are open to convention-attendees only.